Amazon's expanding global reach has naturally led to a substantial increase in its workforce. With millions of people relying on Amazon's services every day, it's intriguing to explore just how many individuals are employed by this American conglomerate. In this article, we will delve into various aspects of Amazon's employee base:
Top Amazon Employee Statistics
Let's start by examining some key statistics about Amazon employees:
Amazon currently employs over 1.54 million individuals.
Since 2007, Amazon's workforce has grown by a staggering 90 times.
More than half (55.2%) of Amazon's employees are male.
Approximately one-third (30.2%) of Amazon's workforce is comprised of White employees.
How Many Employees Does Amazon Have?
According to Amazon's latest Annual Report, the company employs approximately 1,541,000 full-time and part-time employees.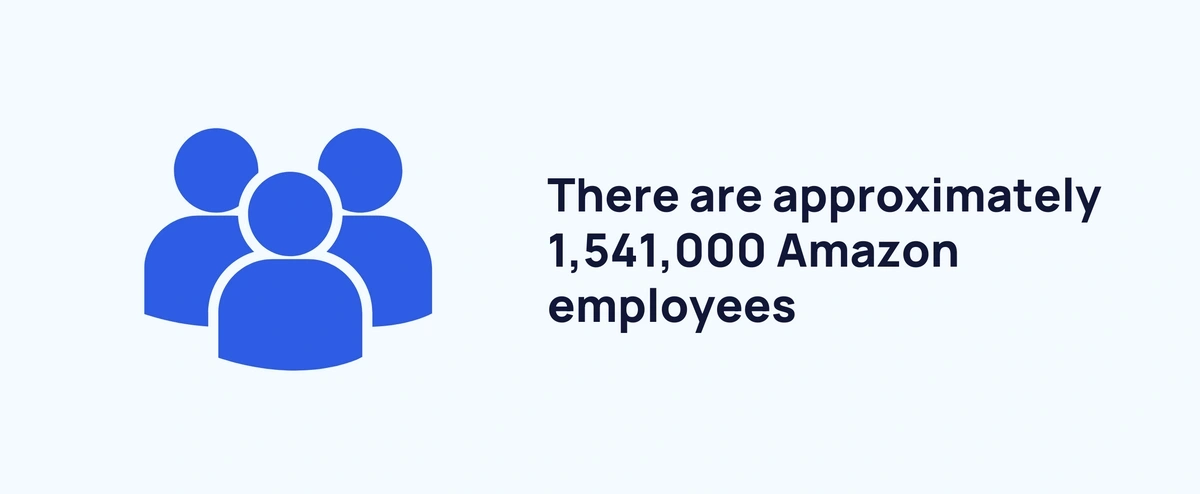 Sources: Amazon, Statista
Number of Amazon Employees Over Time (Annually)
Examining the growth of Amazon's employee count over the past 15 years reveals an upward trend:
Between 2007 and 2012, Amazon's workforce grew by 71,400 employees.
From 2012 to 2017, there was an increase of 477,600 employees.
Between 2017 and 2022, the figure rose to 975,000 employees.
In 2021, Amazon employed around 1,608,000 people, which was 67,000 fewer than the end-of-year total in 2022 (1,541,000).
Since 2007, the number of Amazon employees has grown by over 90 times, equating to an additional 17,000 employees.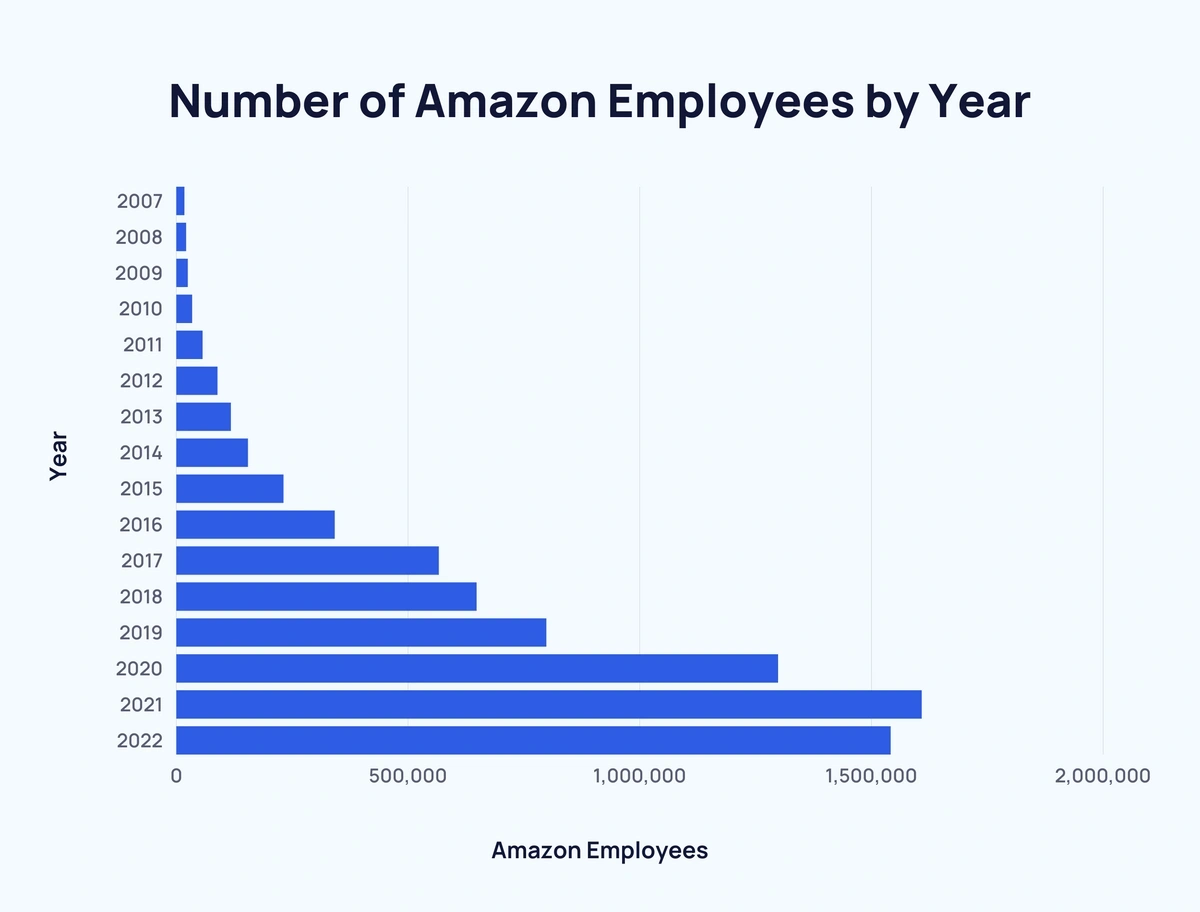 Sources: Amazon, Statista, MacroTrends
Number of Amazon Employees Over Time (Monthly)
Analyzing quarterly data reveals a similar upward trend in Amazon's employee numbers. Over the period from Q1 2018 to Q4 2022, only four out of nineteen quarters saw a decrease in employee count. The three most significant changes were:
Q2 2020 to Q3 2020: A decrease of 248,500 employees.
Q3 2020 to Q4 2020: A decrease of 172,700 employees.
Q3 2021 to Q4 2021: A decrease of 140,000 employees.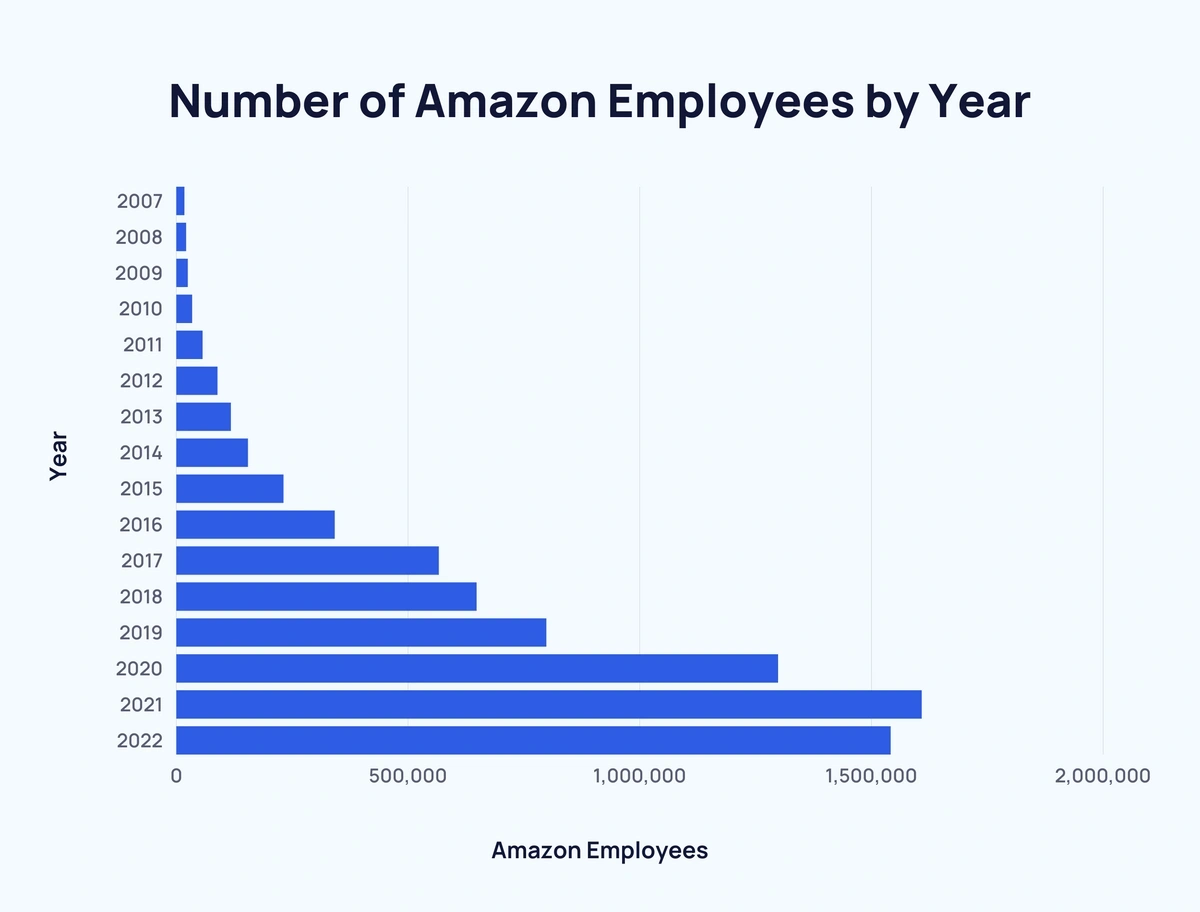 Sources: Amazon, Statista
Amazon Workforce by Gender
The latest data shows that Amazon's gender split among employees is gradually approaching a 1:1 ratio. In 2021, 55.2% of Amazon's workforce was male, while 44.8% was female.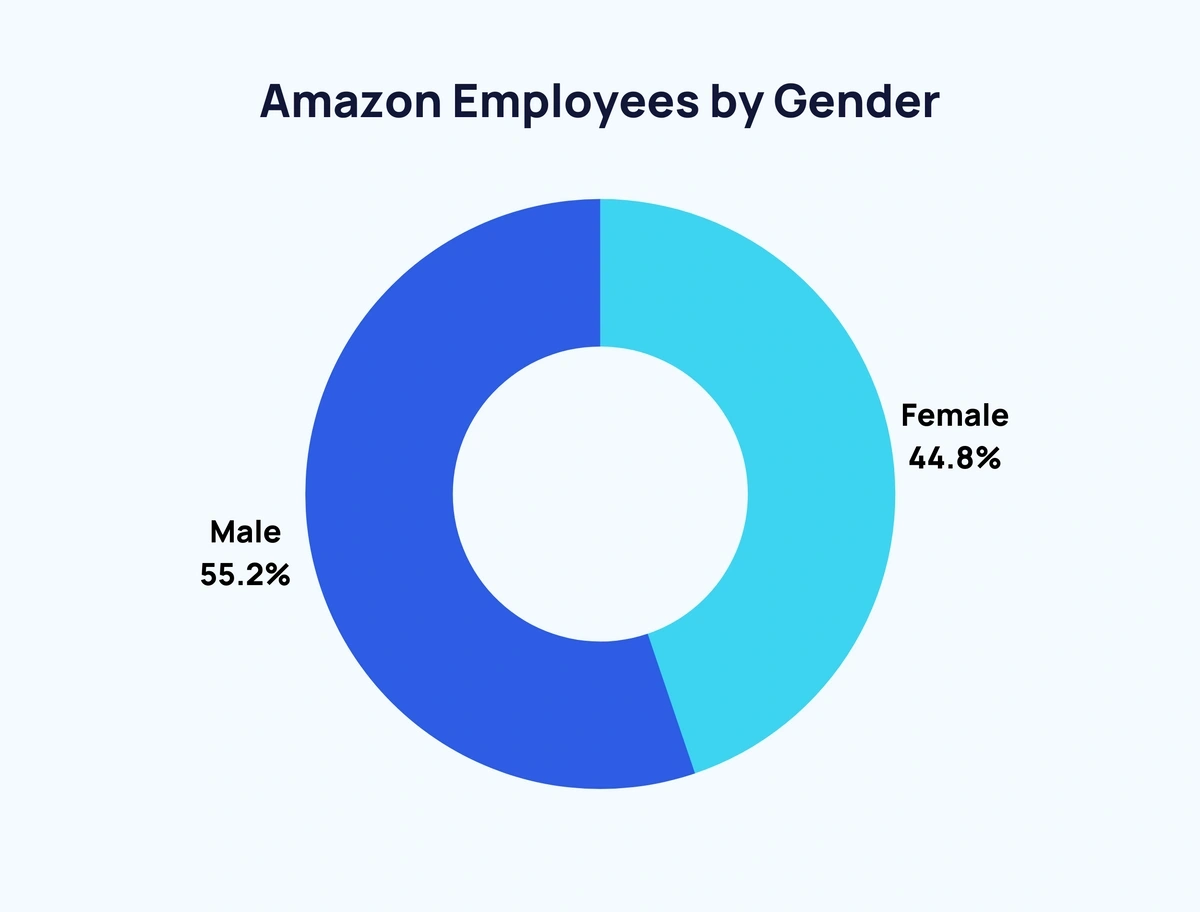 These figures mark a notable shift from the male-dominated split of 58.1% in 2018 to a nearly equal distribution.
In the United States, Amazon's employee gender split is even more balanced, with 53% male and 47% female workers.
Source: Amazon
Amazon Workforce by Ethnicity
When examining Amazon's employee base by ethnicity, it becomes apparent that the number of White employees is decreasing annually, while the representation of Black and LatinX workers is on the rise. Currently, approximately 30.2% of Amazon employees are White.
Source: Amazon
Amazon Workforce by Role
The distribution of gender and ethnicity within Amazon's workforce varies significantly depending on job roles. For senior leadership positions, males dominate with 76.9% representation. Within this group, 66.4% are White. In contrast, field and customer support roles exhibit a more balanced distribution, with 51.7% male employees. The workforce's ethnic breakdown in this field shows a slim difference, with Black (32.7%), LatinX (27.2%), and White (26.7%).
Amazon Workforce by Age
According to Zippia, the average age of Amazon employees falls within the range of 20 to 30 years old, representing more than half (54%) of the workforce.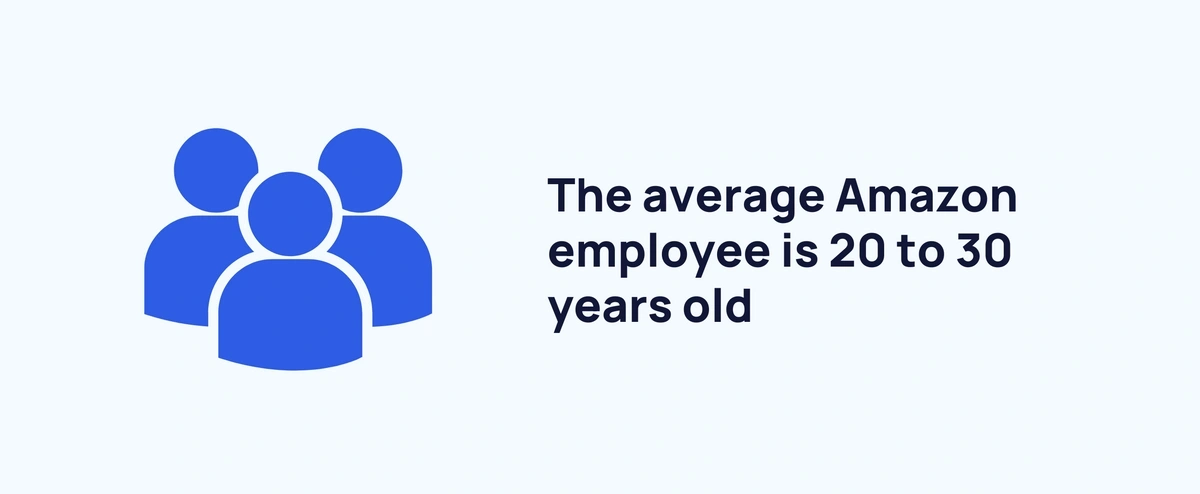 Only 17% of Amazon's employees are over 40 years old.
Source: Zippia
Conclusion
Despite a recent dip in employee numbers, the long-term trend indicates the continuous growth of Amazon's workforce. This trajectory aligns with the company's position as a prominent internet giant. If you find these statistics intriguing, we have more related content available, such as information on the number of Amazon Prime members and key consumer behavior trends.