There are numerous ways to monetize your Instagram presence. Even if you don't have a famous last name like the Kardashians, you can still make a substantial income as an influencer. Instagram has committed to investing $1 billion USD by the end of 2022 in order to reward creators and motivate them to turn social media into a full-time career.
Now, I don't want to sound like an infomercial promising quick riches, but staying updated on new monetization features gives you the opportunity to be an early adopter and increase your chances of generating significant income through these features. Remember, the early bird catches the worm, or in this case, the fat paycheck.
Regardless of whether you're a beauty guru, fashionista, filmmaker, photographer, or any other type of creative content creator, it's crucial to familiarize yourself with both the brand-new and tried-and-true methods of monetizing your Instagram account.
What Does Instagram Monetization Mean?
Instagram monetization can take various forms, including collaborating with brands, earning ad revenue from videos, accepting tips, or leveraging the new Instagram Subscriptions feature. It's important to distinguish between monetization and selling. Monetizing your Instagram account as a creator or influencer doesn't involve selling physical or digital products directly to your social media audience. Instead, it entails earning money for the content you already share on the platform, such as posts, Reels, and Stories.
Selling products and services directly on social media through features like Instagram Shops is considered social commerce. While this type of selling is highly recommended, it differs from the concept of monetization within the context of this article.
Instagram is the leading platform for monetizing content creation. In 2021, the global influencer market reached an all-time high of $13.8 billion USD, more than double what it was in 2019.
Contrary to popular belief, this enormous revenue isn't exclusive to ultra-rich celebrities. In fact, 47% of Instagram influencers have between 5,000 and 20,000 followers, 26.8% have between 20,000 and 100,000, and only 6.5% have over 100,000 followers.
Meta, the parent company of Instagram and Facebook, is committed to attracting and retaining creators on their platforms. They have recently launched the Creator Studio and bonus earnings programs, highlighting the emergence of content creation as a viable career path for anyone, rather than just those born into privilege.
Numerous individuals are already earning full-time incomes through social media. It's not too late to jump on board, as the demand for influencer marketing continues to rise. Currently, almost 75% of American marketers run influencer campaigns, and eMarketer predicts that this number will reach 86% by 2025.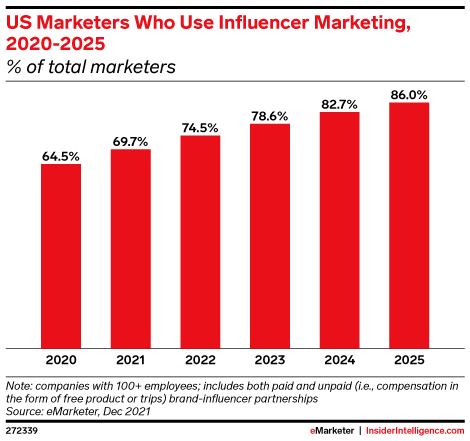 Source: eMarketer
7 Effective Ways to Monetize Your Instagram Account
There are two primary methods to monetize your Instagram account: working with external brands or utilizing the platform's new creator tools. Now, let's delve into the seven ways you can earn money on Instagram.
Work with Brands
When most people think of Instagram monetization or influencer marketing, working with brands is often the first thing that comes to mind. Brands may pay you for in-feed photos or videos, Story content, Reels, or any combination of these.
We've all seen the classic sponsored posts on Instagram, where an influencer showcases a well-styled shot of a product, praises its greatness, and tags the brand.
Nowadays, with features like Reels ads and Stories, branded content is more creative, engaging, and authentic than ever. As a creator, your unique voice is everything, and Joy Ofodu's realistic skincare routine is a perfect example of authenticity:
[Insert Image: Joy Ofodu's realistic skincare routine]
Working with brands is one of the easiest ways to monetize your Instagram account because you remain in control. You can proactively reach out to brands, negotiate your campaign fee and terms, and ultimately secure as many brand deals as possible.
While having some marketing knowledge and a decent follower count are advantageous, anyone can start working with brands.
Eligibility Requirements:
In-feed or Story content sponsored through either payment or free products must include the "Paid partnership with" label.
The FTC requires sponsored content to be tagged with #ad or #sponsored.
Although there are no specific follower count requirements, aiming for around 10,000 followers is a reasonable initial target. However, many influencers successfully land brand deals with fewer followers.
Be prepared to convince brands why they should advertise with you and what you bring to the table, beyond just your follower count.
Join an Affiliate Marketing Program
Two significant changes made by Instagram in 2021 have substantially expanded monetization opportunities on the platform:
Allowing everyone to add links to Stories, removing the previous requirement of a minimum of 10,000 followers.
Launching Instagram Affiliate, their own affiliate marketing program.
Affiliate marketing has been around almost as long as the internet itself. It involves sharing a trackable link to a product, and when customers purchase using your link, you receive a commission for the referral. It's as simple as that.
Instagram Stories are particularly effective for incorporating affiliate links, as long as you transparently disclose to your audience that it is an affiliate link. You can also include links in your captions, as demonstrated in this example from the popular fashion affiliate network LikeToKnow.It.
[Insert Image: LikeToKnow.It caption example]
Although Instagram Affiliate is still being tested as of early 2022, Instagram will soon offer the program to all creators. With Instagram Affiliate, you can discover products within the app, share links to them, and earn a commission for each sale, without relying on external partners or using copy/paste links in your captions.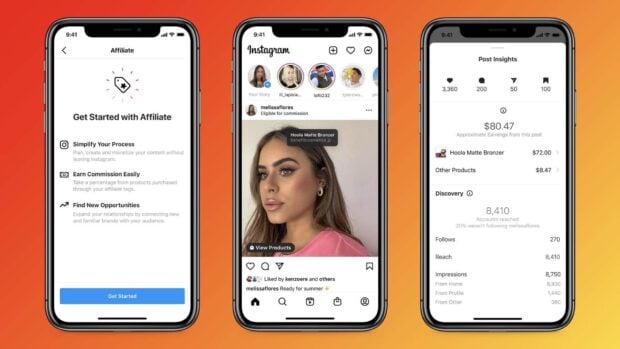 Source: Instagram
While this feature is undoubtedly exciting, there's no need to wait for its official release to start earning money with affiliate links. If you're unsure about finding suitable affiliate programs, don't worry—we've got you covered.
Eligibility Requirements:
Comply with Instagram's content guidelines and monetization policies.
Be transparent with your audience by disclosing when you're sharing an affiliate link. The FTC recommends using a simple hashtag like #ad or explicitly stating, "I earn a commission through sales placed with this link." (Instagram Affiliate will automatically include an "Eligible for commission" label.)
Use Badges in Livestreams
During live videos, your viewers have the option to purchase Badges on Instagram to support you as a creator. Badges are available in three denominations: $0.99, $1.99, and $4.99 USD. Once you've enabled this feature, Badges will automatically be available for all your live videos.
Since Badges are relatively new, make sure to inform your audience about them during your livestreams and express gratitude to those who support you in this manner.
To enable Badges, navigate to your Professional Dashboard from your profile. Switch to the Badges tab and activate the feature.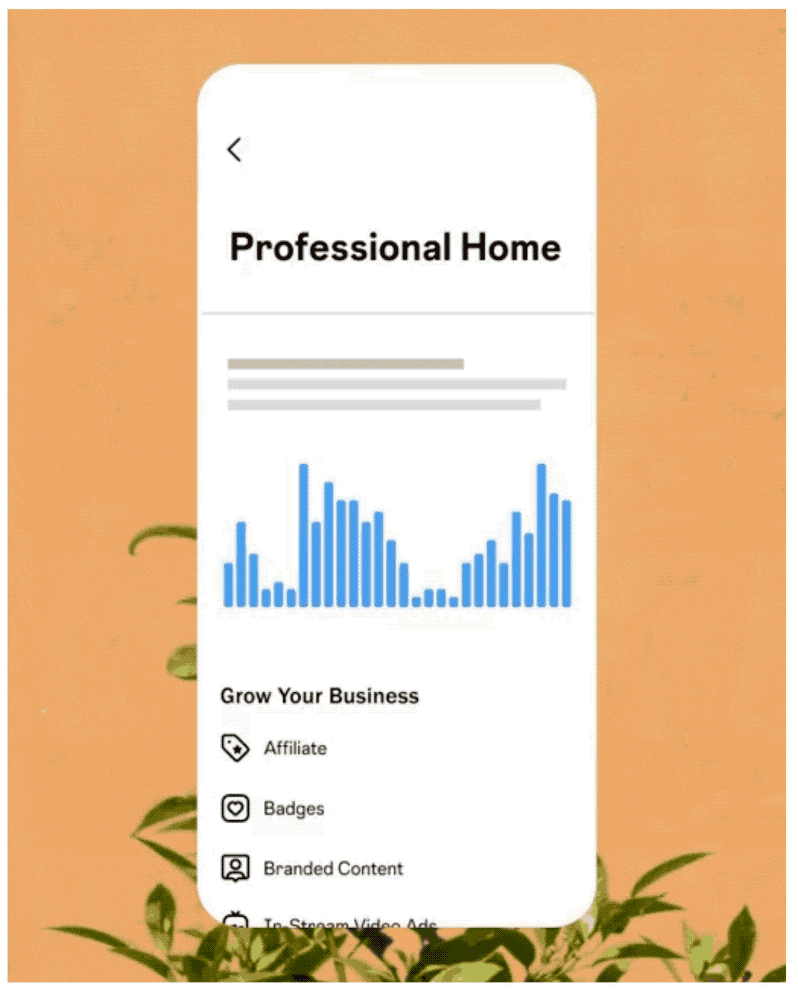 Source: Instagram
Afterward, you'll need to link your bank account or PayPal to set up direct deposit payments. Then, you're all set to go live!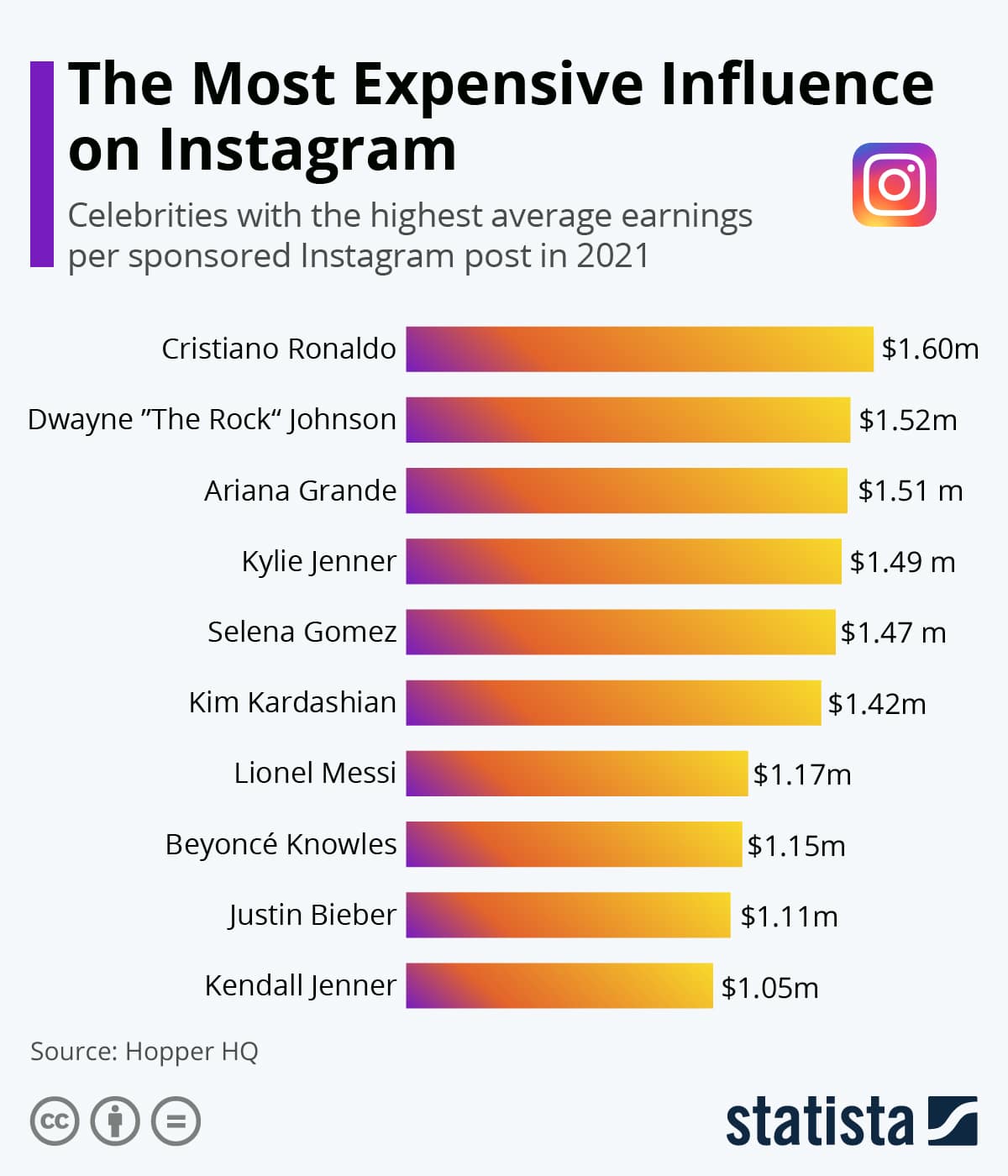 Eligibility Requirements:
Badges have been available since 2020 but are currently limited to the United States. However, Instagram is testing this feature with select creators in other countries, such as the United Kingdom, France, and Australia.
To use badges currently, you must: be located in the United States, have a Creator or Business account, have at least 10,000 followers, be over 18 years old, and adhere to Instagram's Partner Monetization and content guidelines.
Enable Ads on Your Instagram Reels
Previously, Instagram offered in-stream video ads as a monetization method, which allowed brands to display ads before, during, and after video posts on your Instagram profile (formerly known as IGTV ads). Essentially, they were like TV commercials for Instagram, and creators received a portion of the ad revenue.
However, following the rise in popularity of Reels, Instagram has discontinued the regular video post ad monetization option. Instead, they are developing a new ad revenue sharing program specifically for Reels, which will be launched sometime in 2022.
Since Reels have become the primary focus of videos on Instagram, it's wise to concentrate on creating Reels content even before this new monetization option becomes available.
Eligibility Requirements:
This new ad revenue share program for Reels is currently being developed by Instagram. To stay updated, monitor Instagram's announcements or follow their @creators account.
Reels must adhere to the same requirements as other Instagram video posts, including using a 9:16 aspect ratio and ensuring that no important text is hidden by the app's overlays.
It's also advisable to consult Instagram's content recommendations guide for maximal success. A key element is creating original Reels content, or at the very least, removing watermarks from content imported from other platforms, such as TikTok.
Earn Milestone Bonuses
To attract and retain creators, Meta has introduced bonus programs for both Instagram and Facebook content. Currently, these programs are invitation-only. The three existing bonus programs are as follows:
Video ads bonus: This is a one-time payment offered to select American creators who enroll in the feature. However, as mentioned earlier, this ad monetization method is being replaced with an ad monetization option specifically for Reels.
Live video badges bonus: Creators receive this bonus when they achieve certain milestones, such as going live with a secondary account.
Reels summer bonus: The most popular Reels receive cash bonuses through this program.
It can be frustrating that these bonus programs aren't available to everyone. However, you can increase your chances of receiving invitations to such programs by consistently posting high-quality, engaging content that resonates with your target audience. Additionally, leveraging popular formats like Reels can help you catch the platform's attention.
Eligibility Requirements:
These specific Instagram bonus programs are invitation-only. To become eligible for these or future opportunities, you must take your Instagram growth seriously by consistently posting excellent content.
Enable Instagram Subscriptions
One of the newest features introduced in 2022 is Instagram subscriptions. Although this feature has been available on sister platform Facebook since 2020, Instagram subscribers can now pay a monthly fee to support creators and gain access to exclusive content directly within the Instagram app.
As of March 2022, this feature is still being tested and is not open for public enrollment. However, it's expected to become available in the near future.
Instagram subscriptions hold immense monetization potential for several reasons:
They provide a consistent and predictable monthly income.
You can market subscriptions to your existing audience, who are more likely to become paid subscribers.
You can expand your business by offering new tools and services exclusively to this core group of subscribers.
The best part is that anyone can earn money through subscriptions. If you already have an audience on Instagram, that means people appreciate what you're sharing. So, keep doing more of what they love! Ask your followers what they want to see from you and why they follow you. As long as it aligns with your authenticity and business vision, give them what they desire. Building a successful marketing plan for subscription businesses is as simple as that. (Well, sort of.)
Unlike other monetization methods that depend on view counts or having "better" content than others, growing your subscribers is entirely within your control. It doesn't matter how many people you market to; what matters is having the right offers that entice people to subscribe. Moreover, unlike competing with other creators' content, you maintain full control over your offers and marketing strategy. #peptalk
Eligibility Requirements:
As of now, this feature is not open for enrollment. Like other Instagram monetization features, it is expected to initially roll out to U.S. creators before expanding to other countries.
Future Instagram Monetization Possibilities
While nothing has been officially announced, Instagram CEO Adam Mosseri has hinted at more exciting features to come for Instagram creators. There are even rumors of Instagram exploring the possibility of establishing an NFT marketplace within the app.
Mosseri recently stated, "…[It's going to be] a consistent focus of us to do all that we can for the creator community." Expect to hear more throughout 2022 as Instagram continues to develop new creator tools, including the recently launched Creator Lab.
How Much Money Can You Make from Instagram Monetization?
The answer: It depends.
In summary, creators' earnings on Instagram vary significantly, and there is no definitive benchmark to report. However, several surveys have shed light on the subject:
The average rate for a single sponsored Instagram post by creators with 100,000 to 1,000,000 followers ranged from $165 to $1,800 USD.
Affiliate income can vary widely, and some creators earn as much as $5,000 per month through affiliate links alone.
Instagram's bonus program payouts also vary significantly. One influencer mentioned receiving a $6,000 bonus from Instagram in a single month for posting high-performing Reels.
What about the mega-stars? Cristiano Ronaldo tops the list, charging $1.6 million per post, followed by Dwayne Johnson at $1.5 million and Kendall Jenner at $1 million per post.
On the other hand, a more realistic example is a creator with 13,000 Instagram followers earning approximately $300 USD per sponsored Reel.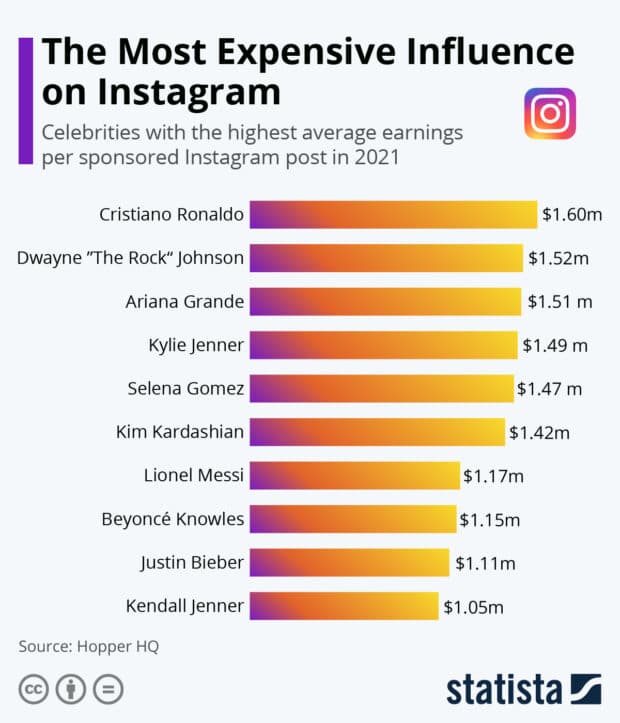 Source: Statista
Unfortunately, racism and bias play a role in creators' earnings across all platforms. Adesuwa Ajayi created the @influencerpaygap account to expose the pay disparity between white and Black creators. By considering what brands offer for various content campaigns, creators can set more informed rates. Furthermore, it ensures that Black, Indigenous, and creators of color receive fair compensation.
As you can see, calculating earnings from Instagram monetization isn't an exact science. So, how much should you charge for brand collaborations?
There's an old rule of thumb that suggests charging $100 per 10,000 followers for a sponsored in-feed photo post. However, in today's landscape with the availability of Reels, videos, Stories, and more, it's reasonable to argue that this may not be sufficient.
Another popular approach is to determine pricing based on engagement rates:
Average price per Instagram post (CPE) = Recent Average Engagements × $0.16
Most influencers typically use a range of $0.14 to $0.16. Engagements include total likes, comments, shares, and saves.
For example, if your recent posts averaged:
2,800 likes
25 shares
150 comments
30 saves
Your calculation would be: 3,005 × $0.16 = $480.80 per post.
To simplify this process, Hootsuite offers detailed Instagram analytics to help you track your metrics, saving you from manually calculating average engagement and keeping tabs on your posts or videos. Phew!
Apart from displaying all your metrics in an easy-to-understand format, Hootsuite also assists you in identifying your top-performing content and determining the best times to post for maximum engagement.
So, it's never too late to monetize your Instagram content! Hootsuite provides all the growth tools you need, from content planning, scheduling, and posting to analytics and audience engagement. Give it a try today!
Get Started